Volunteer
Interested in helping Regina win the House Seat in District 52B? There are many ways for you to get involved. You can make a donation, contribute your time or display a sign on your lawn. There are many ways you can contribute your time: write a letter, door knock, help with a mailing, walk in a parade, host an event or make phone calls, to name just a few. Regina is fond of saying that it takes team work to make the dream work so the more the merrier! If you'd like to help out, send us an email at  reginaforhouse@gmail.com.
Door Knock with Regina!
Do you have a few hours to spare to door knock with Regina? If you are available for 2 hours or more you can help Regina achieve her door knocking goal between now and election day. Pick the dates and times that work for your schedule by clicking on the SignUpGenius icon: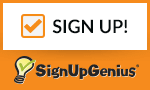 Only available for half hour or 90 minutes? No problem! Send us an email at volunteersforregina@gmail.com.
Show Your Support with a Sign!
Building name recognition is a key component of earning votes in any election. For new candidates, it's even more critical. Are you willing to help Regina get her name out to the community? Then please sign up to display a lawn sign in support of Regina by completing the form below!